now patented: 8,474,192
works with residential roofs
works with commercial roofs
works with screen enclosures
works with all types of gutters (box & k-style gutters)
available in white, brown, bronze, and charcoal
screen-mesh gutter protection features an offset louver system – engineered to draw rainwater in, while preventing debris from entering. even tiny particles, such as shingle grit and pollen are impermeable to the screen mesh. additionally, the convex screen design readily sheds debris; this critical design feature sustains performance and keeps gutters free flowing.
constructed from durable aluminum material to maximize strength and coated with an industrial paint system to preserve the finish. screen-mesh gutter protection meets the demand of every homeowner and contractor.
proudly made in the usa, screen-mesh gutter protection is tested to meet the highest quality of standards.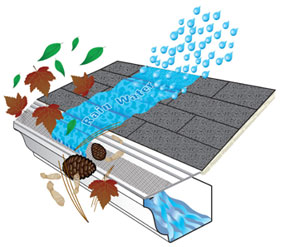 patent pending technology